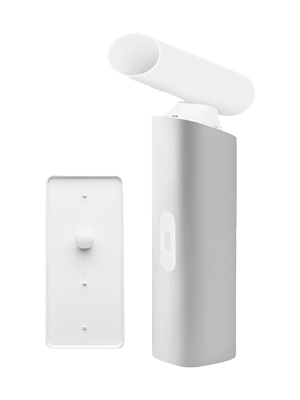 MESI® Spirometry Extension Module for mTABLET, Wireless
Code: SPIROSYSCS
Supplier Part: 301-004350
Unit: EA
The MESI Spiro Extension Module allows general practitioners to perform spirometry with an existing MESI mTablet system, offering essential patient monitoring in a wireless manner. The digital Spirometer utilises Pneumotachograph technology with integrated self-calibration for accurate measurements at any time.
Features & Benefits:
The MESI Spiro module features multiple measurement modes and parameter calculations options: quick, primary, advanced spirometry app packages, allowing for versatile usage. The Spirometer utilises MESI's BestBreath™ detection technology which automatically selects the best of all repeated manoeuvres and also provides a clear and intuitive measurement review. This makes it an indispensable tool for diagnosing asthma, chronic obstructive pulmonary disease (COPD) and other conditions that affect breathing. These measurements are aided by an integrated real-time display of flow-volume curve, temperature, humidity and pressure as well as a warning message for events that may lead to falsification of the result (eg. Coughing, setting down of the mouthpiece).
Includes:
4-port charging station module
Spirometry Diagnostic module
* Does not include mTABLET unit
Specifications
Brand: MESI®
Product: MESI® Spirometry Extension Module for mTABLET (301-004350)
Module Size: 4 x 4 x 1.4 cm
Charging Station Size: 40 x 20 x 3.8cm
Battery charge: 150 examinations/ 4 hours of continuous operation on one charge
Weight: 220 grams (Module), 675 grams (Charging Station)
Measurement modes: FEVC, VC
Parameters: FEV0.5, FEVC, FEV25, FEF50, FEF75, FEV25-75, FET, VEXT, VC, FEV1/FEV6, FEV1/FVC, FEV1/VC
Quality checks: ATS Acceptability and Reproducibility checks
Protection Classifications: Electric shock (Class II), Medical device (Class IIa), RF emissions (Group 1, Class B), Ingress protection (IP30)
Standards: EN 60601-1, EN 60601-1-2, EN ISO 26782
Unit of measurement: 1x MESI Spirometry Extension Module
Image is a sample of product
Request further information on this product
Newsletter
Please enter your email address to subscribe to our newsletters.