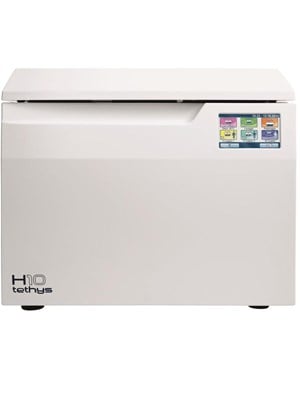 TETHYS H10 PLUS HYBRID WASHER
RRP: $12,937.32
$10,980.75
inc GST
Save: $1,956.57
Code: STSH10P
Supplier Part: 7MOC-WD
Unit: each
Buy In Item
TETHYS H10 PLUS HYBRID WASHER
Washer Disinfector with ultrasonic cleaning and drying in 35mins
Tethys H10 incorporates, in a single exclusive process, the force of water, the energy of heat and the power of ultrasound to ensure maximum safety, outstanding process speeds and ease of use.
Simple to use, revolutionary results. Tethys H10 incorporates – in a single product – in-depth ultrasound cleaning, effective thermal disinfection and highly practical forced-draught drying. Just a few simple steps, which can be set up according to requirements, make the washing and disinfection process much simpler and faster.
Everything you need, as fast as you need it. A complete cycle time of just 35 minutes. Tethys H10 drastically reduces washing and disinfection times, halving them with respect to those of a traditional process. Incorporating the various stages on a single device speeds up the work cycle and reduces the considerable number of manual tasks, ensuring effective use of your precious time.
Combined heat and ultrasound action. No compromising, only maximum safety and efficiency, with guaranteed results at all times. Tethys H10 is an EN ISO 15883-1/2-certified medical device featuring a spray wash, an ultrasound cleaning action and a 90°C thermal disinfection stage.
Request further information on this product
Newsletter
Please enter your email address to subscribe to our newsletters.