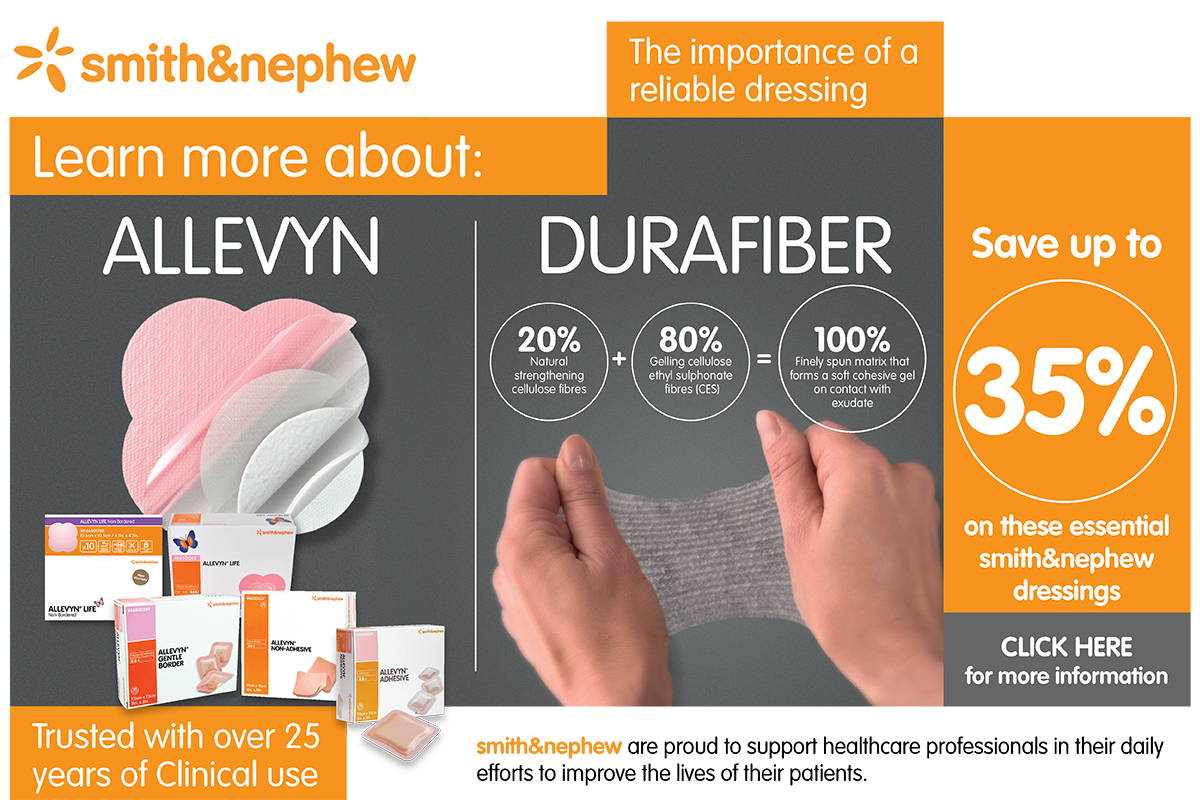 ALLEVYN Life
Trusted with over 25 years of clinical use, the ALLEVYN range contains a history of innovation and putting people first, with a true understanding of the human body and the experience of living with a wound. Classified as the next generation of silicone foam dressings, the ALLEVYN range includes a cushioning layer which has been designed to treat skin tears, shallow, infected or surgical wounds, pressure ulcers, leg ulcers or diabetic foot ulcers as well as first and second degree burns.
ALLEVYN Life dressing is a multi-layered design incorporating hydrocellular foam, hyper-absorber lock away core and masking layer which has been designed for people and their everyday life through.
The ALLEVYN Life range contains:
A unique quadrilobe shape with a wide border designed to fit the contours of the human body more securely and allows patients to shower
A protective masking layer which minimises the visual impact of strikethrough (In-vitro), providing the patient with confidence that their dressing may not attract the negative attention of others
Excellent fluid locking under pressure (in-vitro), providing patients with peace of mind
Common wound odour absorption when tested (in-vitro) on representative compounds
ALLEVYN Life's multi-layered design provides cushioning and helps to spread pressure (in-vitro)
Silicone wound contact layer offers minimal pain and discomfort on removal while allowing the dressing to be repositioned
Change indicator optimises dressing change frequency and minimises wastage
DURAFIBER
The DURAFIBER range is a new generation of high performing gelling fibre dressing designed to meet the many challenges posed by medium and heavily exuding infected and non infected wounds.
Specially designed with innovative fibre technology, DURAFIBER features a unique non-woven fibre blend that is integral to its high performance. This unique blend provides an exclusive combination of benefits that set DURAFIBER dressings apart from conventional gelling fibre dressings.
DURAFIBER Ag is an absorbent, non-woven, silver containing antimicrobial dressing composed of cellulose ethyl sulphonate fibres. The ionic silver in the dressing provides antimicrobial activity against a broad spectrum of common wound pathogens which may help to reduce bacterial bioburden and the risk of infection.
DURAFIBER Ag is designed to rapidly form a clear cool gel on contact with wound fluid. This gel absorbs excess fluid, locks exudate away from the wound, provides a moist environment to support autolytic debridement and conforms intimately to the wound bed. The high integral wet strength of DURAFIBER Ag facilitates easy one-piece removal from moist wound beds and cavity wounds so minimising trauma to the wound and pain to the patient on removal.
Downloadable Materials and Videos
Newsletter
Please enter your email address to subscribe to our newsletters.