Skin Tears - Easy to miss, but easy to treat.
A skin tear is a wound caused by shear, friction, and/or blunt force resulting in separation of skin layers.
Elderly patients often experience skin tears due to their fragile skin. Causes can include every day accidents such as falling over or bumping into furniture, as well as friction from clothing or new surfaces such as a wheelchair or hospital beds.Particular care should be taken when handling elderly patients with fragile skin to ensure skin tears are not inadvertently incurred.
There is a requirement for increased awareness around skin tear injuries. They can be painful and upsetting for patients who are affected. Unfortunately they often go ignore misdiagnosed or mistreated. Left untreated or treated inappropriately can result in a chronic injury which increases healing times, cost of treatment and distress to patients.
The International Skin Tear Advisory Panel (ISTAP) convened a group of experts from Europe, North America, South America, Asia, Africa and Australia, who met in November 2017 to provide internationally recognised recommendations for the prevention and management of skin tears, with updated definitions and terminology.
Click here for a copy of the Best Practice Document.
Mepitel One is designed to facilitate safe and undisturbed healing including safe removal on skin tears where the flap is fully or partially intact. Mepitel One is indicated for use of up to 14 days.
Mepilex Border Flex is the next generation of flexible dressings which are designed to stay on and uniquely conform. Suitable for a skin tear with total flap loss. Mepilex Border Flex is indicated for use of up to 7 days.
Please refer to our Frequently Asked Questions for more information on Skin Tears and how to treat them.
ISTAP Classifications and Recommended Approach to Treatment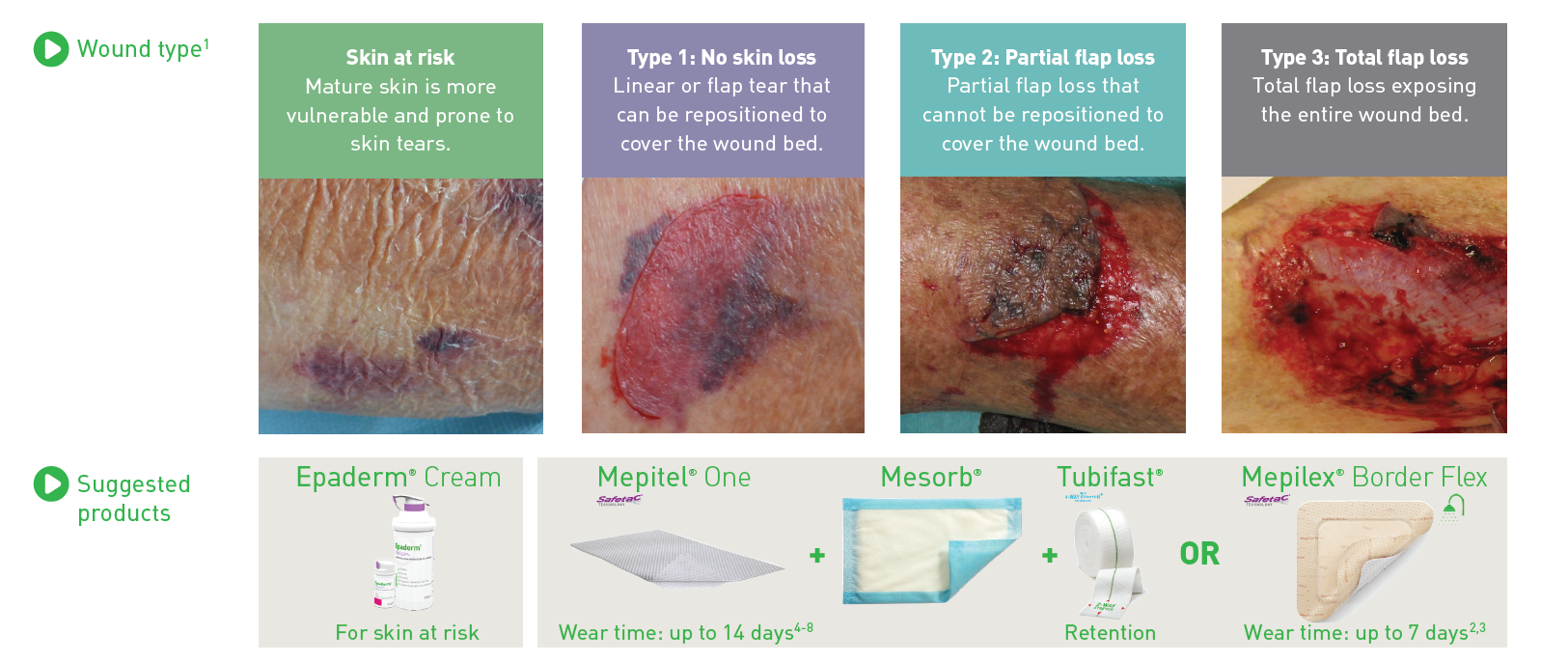 Buy Mepilex Border Flex for Type 3 Skin Tears
Videos and Educational Resources
How to apply Mepitel One on Skin Tears
Dressing a wound using Mepitel One