Aqium Antibacterial Hand Gel
Aqium is an alcohol based hand gel that kills of germs fast and helps prevent the spread of infection. Good hand hygiene is one of the best ways to help prevent the spread of germs and this can be achieved by washing your hands properly for a minimum of 20 seconds. If you don't have access to soap and water, an alcohol based hand gel is just as effective.
Aqium Hand Gel leaves hands refreshed, moisturised and hygienically clean.
Features and Benefits:
70% Alcohol - Effective concentration of alcohol in water to kill germs
Glycerine - Provides long-lasting moisturisation
Panthenol (pro vitamin B5) - Humectant moisturiser. Improves skin hydration, reducing transepidermal water loss and maintaining skin softness and elasticity
Sanitise Your Hands Correctly with Aqium Hand Gel
Good hand hygiene is one of the best ways to help avoid the spread of germs. Follow the steps below to ensure your hands are sanitised correctly. Aqium Hand Gel is ideal when water is not always available to wash your hands.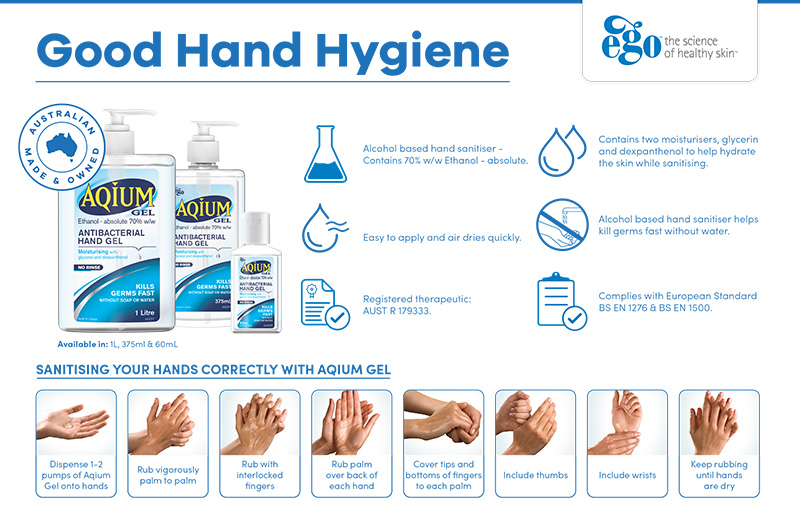 ---
Download Reference Materials
Watch AQIUM Hand Gel Video
How to Sanitise Your Hands Correctly
Frequently Asked Questions (FAQs)
Newsletter
Please enter your email address to subscribe to our newsletters.