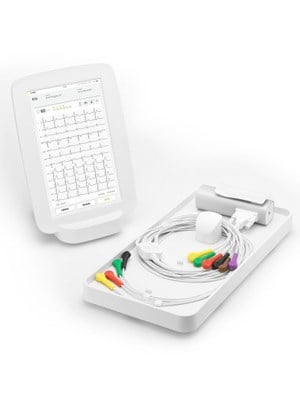 MESI mTABLET ECG Diagnostic System
RRP: $5,443.20
$5,000.00
Save: $443.20
Code: MTABSYSECG
Supplier Part: 301-002010/MTABSYSECG
Unit: EA
In Stock
The MESI mTABLET ECG is the first completely digital 12-lead resting ECG that is easy to use, fast, portable and precise. The wireless and portable MESI mTABLET ECG Diagnostic Module, is a powerful diagnostic device that makes it easy to capture, analyse and share high-quality ECG data that can be shared and accessed for consultation with cardiologists or specialists from any device. Advanced ECG data analysis with immediate interpretation possibilities are available in real-time, for quick review, printout and consultation.
Connected Workflow:
mTABLET ECG Diagnostic Module is perfect for healthcare practices looking to reduce the administrative workload and have powerful ECG analysis and data connectivity always at hand. With mRECORDS application consultation is simple, safer and easier than ever.
Less Steps, More Time:
The mTABLET ECG Diagnostic Module meets the need for a handy, portable, fast and advanced ECG solution that is easy-to-use. ECG data are available in real-time, on the mTABLET and on the physician's screen, without waiting for the ECG printout. Due to immediate access to the data, physicians and specialists have the ability to request a repeat ECG even before the electrodes are removed from the patient. This gives valuable time back to the patient care. The mTABLET ECG is suitable for ambulatory and non-ambulatory care.
Features and Benefits:
Glasgow Interpretation Algorithm included
ECG signal filters (MESI signal enhancement, high-pass, low-pass, mains, myogram)
8 advanced view options
Recording speed and sensitivity settings
Simple zoom-in, comment adding, event tagging
Customisable printouts directly from the mTABLET
Award-winning design and user-friendly interface
Patient history and trends already on the tablet
Clinical support apps with artificial intelligence integrated
The MESI mTABLET ECG Diagnostic System Includes:
Wireless 12-lead resting ECG
mTABLET medical grade tablet 4-Port charging station
mRECORDS EHR
Access to mSTORE
ECG consultation
Equipped with the standard software, the MESI resting ECG supports the acquisition of 12 leads of ECG for a period of 10 seconds or manual mode with an acquisition of up to 5 minutes. It is represented with 12 short segments, which are arranged in a grid of 3 rows and 4 columns (1. Column represents the 3 standard leads (dipolar); 2. Column represents the 3 augmented limb leads (unipolar); 3. and 4. Column represent the 6 precordial leads).
Resting ECGs can be transferred to the mRECORDS web platform in the patient file and can be seen by a physician with any computer or mobile device.
The MESI mTABLET 12-lead Diagnostic Module comes with the ECG application for MESI mTABLET. Upgrade the MESI mTABLET ECG and perform multiple reimbursable measurements with other tools from the MESI mTABLET diagnostic portfolio: Spirometer (SPIRO), Pulse Oximeter (SPO2), Blood Pressure (BP), Ankle-Brachial Index (ABI) and Toe-Brachial index (TBI).
Specifications:
Brand: MESI
Product: MESI mTABLET ECG Diagnostic System (301-002010/MTABSYSECG)
Module: ECG
Access to MESI mRECORDS (web-based platform with patient history, trends, and advanced tools)
Connectivity: Bluetooth, WI-FI, NFC, smart card reader, barcode reader
Unit of measurement: Each
Image is a sample of product
Below are additional diagnostic modules that can be added to the MESI mTABLET ECG Diagnostic System. Please note, these modules are sold separately.
MESI mTABLET ABI Diagnostic Module
MESI mTABLET SpO2 Diagnostic Module
MESI mTABLET Blood Pressure Diagnostic Module
Request further information on this product