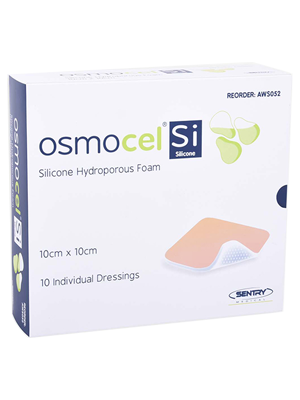 Osmocel® Si Silicone Hydroporous Foam Non-Bordered 10cm – Box/10
RRP: $71.50
$63.61
inc GST
Save: $7.89
Code: GUAWS052
Supplier Part: AWS052
Unit: BOX 10
Osmocel Si Silicone Hydroporous Foam is an all-in-one non-bordered dressing that protects skin and wound tissue. Suitable for skin tears, superficial wounds with light to moderate exudate, arterial, diabetic and venous leg ulcers, pressure injuries, partial thickness burns and surgical wounds.
Features & Benefits:
The Silicone hydroporous dressing with a polyurethane foam layer maintains an optimal moist protective layer for wound healing. The adhesive free backing of the dressing increases possible wear time.
Specifications:
Brand: Sentry Medical®
Product: Osmocel® Si Silicone Hydroporous Foam 10 x 10cm (GUAWS052)
Size: 10CM x 10cm
Bordering: Non-bordered
Sterility: Sterile
Packaging: Individually-wrapped
Unit of Measurement: Box of 10
Image is a sample of product
Request further information on this product
Newsletter
Please enter your email address to subscribe to our newsletters.